As soon as we discovered Burroughs, that was it. That's why we thought, 'Fuck Genesis', because applying that cut-up technique to music was a new idea back then. All that stuff was just as important, if not more so, than the music.

Richard H. Kirk, Uncut Feb. 2000
Cabaret Voltaire - Seconds Too Late (Rough Trade, 1980)

Possibly the best ever Cabs single, backed by the perennially strange "Control Addict", features an attempt by the band to visually interpret their music on this brilliant sleeve. Artpunks with craft knives! I've stared intently at it on many occasions, but only get faint traces of the image that slices diagonally across what appears to be architectural blueprints. A design classic in my book. Interestingly, the Designers Republic seemed to have taken inspiration from it last year, when they created this: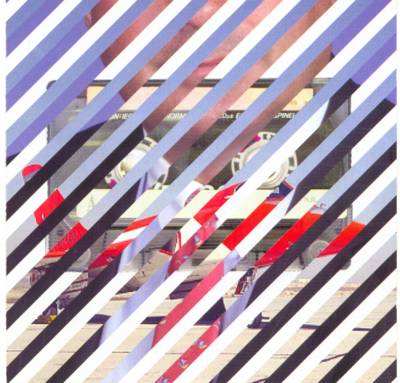 Richard H. Kirk - T.W.A.T. The War Against Terror (Intone, 2003)

Perhaps a bit more clinical than the original, and it's fairly easy to make out the three different images used, but I dig it. The Designers obviously liked the result too, as they used the technique again shortly after for this Warp promo card, cutting up Luke Vibert's "Yoseph" with Chris Clark's "Empty The Bones Of You", LFO's "Sheath" and Plaid's "Spokes":
It looks attractive, I think - although it doesn't really
mean
anything. It's just cool design, as opposed to the Cabs' original concept that just oozes with lo-tech mystery and suppressed violence.